Print this Page
Book Club Kits
We Have Your Book Club Kit in the Bag!
Are your book club members on the same page with book selections? Have difficulty getting books? Need discussion ideas and questions? We're here to assist with librarian-curated kits!
Expand your literary comfort zone, enjoy time with other book lovers and have fun!
What's In a Kit
Each book club kit contains:
9 copies of the book
one audiobook on CD, when available
discussion guide
book discussion how-tos and best practices
When available, the library provides access to one electronic book and one downloadable audiobook for each title, which you can download to a device in Overdrive or Libby. A star ★ indicates unlimited copies are available in Hoopla Digital.
Kits include a mix of genres, topics and interests in fiction and nonfiction.
Borrowing Guidelines
Reservations and Checkouts
To reserve a book club kit, call Abingdon Library at 276-676-6233.
Only WCPL library card holders are eligible to reserve book kits.
Book kits may be checked out for four weeks.
They are not renewable.
You can have more than one kit on reserve at a time.
The kit will be checked out on the library card of the book club member picking up the kit. That patron is responsible for the bag and all of its contents.
Returns
The Book Club kit must be returned, with all its contents intact, at the same time.
You may return the kits to any branch within the Washington County Public Library system.
Kits must be returned inside the library. Please do not put them in a book drop.
Available Kits
Pride and Predjudice ★
by Jane Austen
When Elizabeth Bennet first meets eligible bachelor Fitzwilliam Darcy, she thinks him arrogant and conceited; he is indifferent to her good looks and lively mind. In the sparkling comedy of manners that follows, Jane Austen shows us the folly of judging by first impressions and superbly evokes the friendships, gossip and snobberies of provincial middle-class life.
Beartown
by Fredrik Backman
Beartown is slowly losing ground to ever-encroaching forest. But down by the lake stands an old ice rink, the reason people in Beartown believe tomorrow will be better than today. Their junior ice hockey team is about to compete in the national semi-finals, and they actually have a shot at winning.
Being responsible for the hopes of an entire town is a heavy burden, and the semi-final match is the catalyst for a violent act that will leave a young girl traumatized and a town in turmoil. Accusations are made and, like ripples on a pond, they travel through all of Beartown, leaving no resident unaffected.
Cold Sassy Tree ★
by Olive Ann Burns
A timeless, funny novel – about a romance that rocks an entire town, about a boy's passage through the momentous year when childhood melts into adolescence, and about just how people lived and died in a small Southern town at the turn of the century.
My Antonia ★
by Willa Cather
One of the most winning heroines in American fiction, a woman whose calm, undemonstrative strength and robust high spirits make her emblematic of the virtues Cather most admired in her country. Ántonia Shimerda is the daughter of Bohemian immigrant parents struggling with the oceanic loneliness of life on the Nebraska prairie. We follow Ántonia from farm to town as she survives hardships both natural and human, from poverty to a failed romance—and not only survives but triumphs.neers in Nebraska toward the end of the 19th century.
O Pioneers! ★
by Willa Cather
O Pioneers! tells the story of the Bergsons, a family of Swedish-Americans immigrants in Nebraska at the turn of the 20th century. Alexandra Bergson inherits the family farmland when her father dies, and she devotes her life to making the farm a viable enterprise at a time when many other immigrant families are giving up and leaving the prairie.
Between the World and Me
by Ta-Nehesi Coates
The author presents a history of racial discrimination in the United States and a narrative of his own personal experiences of contemporary race relations, offering possible resolutions for the future. A profound work that pivots from the biggest questions about American history and ideals to the most intimate concerns of a father for his son.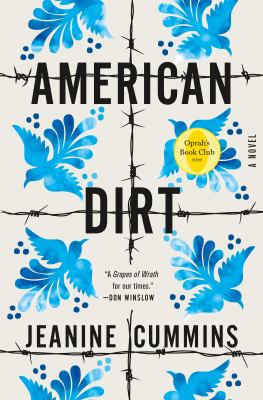 American Dirt
by Jeanine Cummins
Lydia Quixano Pérez runs a bookstore in Acapulco, Mexico, where she lives with her husband, Sebastián, who is a journalist, and their son, Luca. When a man starts visiting her store, buying books and striking up a friendship, she has no idea initially that he will be responsible for turning her life upside down. But Lydia and Luca will have to flee Acapulco, setting them on a journey they will share with countless other Central and South Americans-turned migrants.
White Fragility
by Robin DiAngelo
The New York Times best-selling book explores the counterproductive reactions white people have when their assumptions about race are challenged, and how these reactions maintain racial inequality. In this in-depth exploration, DiAngelo examines how white fragility develops, how it protects racial inequality, and what we can do to engage more constructively.
The Language of Flowers
by Vanessa Diffenbaugh
After a childhood spent in the foster-care system, Victoria is unable to get close to anybody, and her only connection to the world is through flowers and their meanings. Now eighteen and emancipated from the system with nowhere to go, Victoria realizes she has a gift for helping others through the flowers she chooses for them. But an unexpected encounter with a mysterious stranger has her questioning what's been missing in her life.
Rebecca
by Daphne du Maurier
The unassuming young heroine of Rebecca finds her life changed overnight when she meets Maxim de Winter, a handsome and wealthy widower whose proposal of marriage takes her by surprise. De Winter whisks her off to Manderley, his estate on the Cornish coast–but there things take a chilling turn.
Silas Marner ★
by George Eliot
Wrongly accused of theft and exiled from a religious community many years before, the embittered weaver Silas Marner lives alone in Raveloe, living only for work and his precious hoard of money. But when his money is stolen and an orphaned child finds her way into his house, Silas is given the chance to transform his life and hers in this timeless tale of found family.
The Cul-de-Sac War ★
Local author Melissa Ferguson uses Abingdon as the setting of her new book! Bree Leake doesn't want to be tied down. She's had more jobs than she can count, and she plans to move as soon as the curtains fall on her less-than-minor stage role at The Barter—the oldest live performance theater in the US. But just when it's time to move on again, Bree's parents make her an offer: hold steady for a full year, and they will give her the one thing she's always wanted—her grandmother's house. Her dreams are coming true . . . until life at the theater throws her some curve balls. And then there's Chip McBride – her handsome and infuriating next-door neighbor.
The Stranger in the Woods
by Michael Finkel
In 1986, a shy and intelligent twenty-year-old named Christopher Knight left his home in Massachusetts, drove to Maine, and disappeared into the forest. Many people dream of escaping modern life, but most will never act on it. A true story of a man who lived alone in the woods for 27 years, making this dream a reality; not out of anger at the world, simply because he preferred to live on his own.
Skipping Christmas
by John Grisham
Luther and Nora Krank are fed up with the Christmas chaos. Where has all the joy gone? With their only child off in Peru, they decide that just this once, they'll skip the holidays. But a vacation from Christmas isn't much of a vacation at all, and skipping the holidays has consequences the Kranks didn't bargain for.
What the Eyes Don't See
by Mona Hanna-Attisha
The inspiring story of how Dr. Mona Hanna-Attisha, alongside a team of researchers, parents, friends, and community leaders, discovered that the children of Flint, Michigan, were being exposed to lead in their tap water—and then battled her own government and a brutal backlash to expose that truth to the world.
The Dry
by Jane Harper
Federal Agent Aaron Falk returns to his hometown to attend the funeral of his best friend, Luke. Twenty years ago when Falk was accused of murder, Luke was his alibi. Falk and his father fled under a cloud of suspicion, saved from prosecution only because of Luke's steadfast claim that the boys had been together at the time of the crime. But now more than one person knows they didn't tell the truth back then, and Luke is dead.
The House of the Seven Gables ★
by Nathaniel Hawthorne
The greed and arrogance of the Pyncheon family through the generations are mirrored in the gloomy decay of their seven-gabled mansion, in which the family's enfeebled and impoverished relations live.
Hawthorne's classic focuses on whether families can break the chain of their inherited warped values and grow better natures, letting the love and light in. Can the curse on the family and upon the House of the Seven Gables be broken?
The Scarlet Letter ★
by Nathaniel Hawthorne
Set in an early New England colony, the novel shows the terrible impact a single, passionate act has on the lives of three members of the community: the defiant Hester Prynne; the fiery, tortured Reverend Dimmesdale; and the obsessed, vengeful Chillingworth.
NEW! A Farewell to Arms
by Ernest Hemingway
The unforgettable story of an American ambulance driver on the Italian front and his passion for a beautiful English nurse. Hemingway's frank portrayal of the love between Lieutenant Henry and Catherine Barkley, caught in the inexorable sweep of war, glows with an intensity unrivaled in modern literature, while his description of the German attack on Caporetto—of lines of fired men marching in the rain, hungry, weary, and demoralized—is one of the greatest moments in literary history.
Eleanor Oliphant is Completely Fine
by Gail Honeyman

Meet Eleanor Oliphant. She struggles with appropriate social skills and tends to say exactly what she's thinking. Smart, warm, uplifting, Eleanor Oliphant is Completely Fine is the story of an out-of-the-ordinary heroine whose deadpan weirdness and unconscious wit make for an irresistible journey as she realizes that the only way to survive is to open your heart.
NEW! Go and Come Again
by Dr. Jerry Jones

Local author and educator Jerry Jones writes about the history and culture of Glade Spring during the era of segregated schools and Jim Crow. Jones writes about his family's struggles; teachers and students; the transitions of the early 1960s; his experiences at a historically black college; his work as a high school teacher; and his experiences as a professor, first at a community college and then at a small, church-affiliated liberal arts college near his birthplace.
An American Marriage ★
by Tayari Jones

Newlyweds Celestial and Roy are the embodiment of both the American Dream and the New South. He is a young executive, and she is an artist on the brink of an exciting career. But as they settle into the routine of their life together, they are ripped apart by circumstances neither could have imagined.
NEW! At Home in Mitford (Inspirational)
by Jan Karon

It's easy to feel at home in the charming village of Mitford, but Father Tim, the bachelor rector, wants something more. Enter a dog the size of a sofa who moves in and won't go away. Add an attractive neighbor who begins wearing a path through the hedge. Now, stir in a lovable but unloved boy, a mystifying jewel theft, and a secret that's sixty years old.
The Girls of Atomic City
by Denise Kiernan

At the height of World War II, Oak Ridge, Tennessee, consumed more electricity than New York City, yet did not appear on any map. Thousands of civilians, many of them young women from small towns, were recruited to this secret city. What were they actually doing there? Very few knew.
Writers and Lovers
by Lily King
Casey Peabody has arrived in Massachusetts in the summer of 1997 without a plan. A former child golf prodigy, she now waits tables in Harvard Square and rents a tiny, moldy room where she works on the novel she's been writing for six years. She is determined to live a creative life in the midst of total chaos, including falling for two different men at the same time.
Writers & Lovers explores the terrifying and exhilarating leap between the end of one phase of life and the beginning of another.
The Water Keeper (Inspirational Fiction) ★
by Charles Martin
Murphy Shepherd is a man with many secrets. He lives alone on an island, tending the grounds of a church with no parishioners, and he's dedicated his life to rescuing those in peril. When he pulls a beautiful woman named Summer out of Florida's Intracoastal Waterway, his life takes a dangerous turn. Drawn to Summer, and desperate to find her missing daughter, Murph is pulled deeper and deeper into the dark and dangerous world of modern-day slavery.
Oona Out of Order
by Margarita Montimore
At the countdown to the New Year, Oona Lockhart faints and awakens thirty-two years in the future in her fifty-one-year-old body. Greeted by a friendly stranger in a beautiful house she's told is her own, Oona learns that on each New Year's Eve she will leap to another random age of her life.
Little Fires Everywhere
by Celeste Ng
Now a hit TV series, Little Fires Everywhere xplores the weight of secrets, the nature of art and identity, and the ferocious pull of motherhood – and the danger of believing that following the rules can avert disaster.
NEW! Hamnet
by Maggie O'Farrell
A deeply moving novel about the death of Shakespeare's 11-year-old son Hamnet, a name interchangeable with Hamlet in 15th-century Britain. A luminous portrait of a marriage, a shattering evocation of a family ravaged by grief and loss, and a tender and unforgettable re-imagining of a boy whose life has been all but forgotten, and whose name was given to one of the most celebrated plays of all time.
Where the Crawdads Sing
by Delia Owens
Kya Clark is a young woman who has grown up in near isolation in the wild marshlands outside Barkley Cove, North Carolina. When Kya is suspected of murder in 1969, at the age of 23, we learn her fascinating backstory. A deeply atmospheric portrayal of a place and time.
The Dutch House ★
by Ann Patchett
A richly moving story that explores the indelible bond between two siblings, the house of their childhood, and a past that will not let them go. The Dutch House is the story of a paradise lost, a tour de force that digs deeply into questions of inheritance, love and forgiveness, of how we want to see ourselves and of who we really are.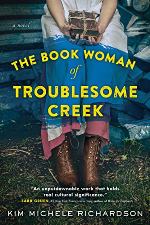 The Book Woman of Troublesome Creek ★
by Kim Michele Richardson
Inspired by the true blue-skinned people of Kentucky and the brave and dedicated Kentucky Pack Horse library service of the 1930s, The Book Woman of Troublesome Creek is a story of raw courage, fierce strength, and one woman's belief that books can carry us anywhere―even back home.
The End of Your Life Book Club
by Will Schwalbe
An inspiring story of a son and his mother who start a book club that brings them together as her life comes to a close. Over the next two years they discuss an eclectic array of books and a shared passion for reading.
The Island of Sea Women
by Lisa See
Mi-ja and Young-sook, two girls living on the Korean island of Jeju, are best friends who come from very different backgrounds. When they are old enough, they join their village's all-female diving collective, led by Young-sook's mother. As baby divers, they begin a life of excitement and responsibility—but also danger.
Where'd You Go, Bernadette
by Maria Semple
To her Microsoft-guru husband, she's a fearlessly opinionated partner; to fellow private-school mothers in Seattle, she's a disgrace; to design mavens, she's a revolutionary architect; and to 15-year-old Bee, she is her best friend and, simply, Mom. The New York Times describes this title as "A misanthropic matriarch leaves her eccentric family in crisis when she mysteriously disappears in this 'whip-smart and divinely funny' novel that inspired the movie starring Cate Blanchett."
Liar's Winter (Inspirational) ★
by Cindy K. Sproles
Lochiel Ogle was born with a red-wine birthmark. Folks in East Tennessee called it "the mark of the devil." Abused and abandoned by the only people she knows as family, Lochiel is rescued by a peddler and given the first glimpse of love she has ever known. The truth of her past is gradually revealed, and she is still hunted by a brother driven to see her dead. Will Lochiel continue to run, or will she face her past and accept the heartbreaking secrets it reveals?
NEW! What Momma Left Behind (Inspirational) ★
by Cindy K. Sproles
Worie Dressar is 17 years old when influenza and typhoid ravage her Appalachian community in 1877, leaving behind a growing number of orphaned children. Worie's mother has been secretly feeding these little ones on Sourwood Mountain. But when Momma dies suddenly, Worie must fight to save her home and the orphaned children now in her begrudging care, while plagued with two good-for-nothing brothers. Along the way, she will discover the beauty of unconditional love and the power of forgiveness as she cares for all of Momma's children.
The Women in Black
by Madeleine St. John
The women in black, named for the frocks they wear while working at Goode's department store in 1959 Sydney, sell ladies' dresses during the holiday rush. A pitch-perfect comedy of manners, the novel conjures the energy of a city on the cusp of change and celebrates the importance of female friendship.
Ramp Hollow
by Stephen Stoll
Ramp Hollow recasts the story of Appalachia as a complex struggle between mountaineers and profit-seeking forces from outside the region, drawing powerful connections between Appalachia and other agrarian societies around the world.
The Hate U Give ★
by Angie Thomas
Sixteen-year-old Starr Carter moves between two worlds: the poor black neighborhood where she lives and the fancy suburban prep school she attends. The uneasy balance between these worlds is shattered when Starr witnesses the fatal shooting of her childhood best friend, Khalil, at the hands of a police officer. Khalil was unarmed.
A Gentleman in Moscow
by Amor Towles
Count Alexander Rostov is sentenced by the Bolsheviks to house arrest in the Metropol, a grand hotel across the street from the Kremlin. Rostov, an indomitable man of erudition and wit, lives in an attic room while some of the most tumultuous decades in Russian history are unfolding outside the hotel's door. His reduced circumstances unveil a much larger world of emotional discovery.
Rez Life ★
by David Treuer
Treuer illuminates misunderstood issues like sovereignty, treaty rights, and natural-resource conservation. Through the eyes of students, teachers, government administrators, lawyers, and tribal court judges, he shows how casinos, tribal government, and the Bureau of Indian Affairs have transformed the landscape of Native American life.
Educated
by Tara Westover
This best-selling memoir traces the author's experiences as a child born to survivalists in the mountains of Idaho, describing her participation in her family's paranoid stockpiling activities and her resolve to educate herself well enough to earn an acceptance into a prestigious university and the world beyond. Affairs have transformed the landscape of Native American life.
Ethan Frome ★
by Edith Wharton
Ethan Frome works his unproductive farm and struggles to maintain a bearable existence with his difficult, suspicious, and hypochondriac wife, Zeenie. But when Zeenie's vivacious cousin enters their household as a 'hired girl', Ethan finds himself obsessed with her and with the possibilities for happiness she comes to represent.
The House of Mirth ★
by Edith Wharton
The story of Lily Bart, a well-born but impoverished woman belonging to high society in Gilded Age New York around the turn of the last century. As Lily turns 30, she has some choices to make about how to maintain her social standing and expensive tastes. How does a high-spirited lady both rebel against and conform to the harsh dictates of society?
The Professor and the Madman
by Simon Winchester
A memoir about how the Oxford English Dictionary was compiled by James Murray and the invaluable contributions over a 20 year period by Dr. William Minor, a person who turned out to be a criminally insane murderer and prisoner at Broadmoor.
All the Little Hopes ★
by Leah Weiss
Thirteen-year-old Lucy Brown is precocious and itching for adventure. Then Allie Bert Tucker wanders into her North Carolina town, an outcast from Appalachia with a puzzling past. Lush with Southern atmosphere, this is the story of two girls growing up as war creeps closer, blurring the difference between what's right, what's wrong, and what we know to be true. Their quiet town, seasoned with honeybees and sweet tea, becomes home to a Nazi prisoner-of-war camp. More men go missing. And together, the girls embark on a journey to discover if we ever really know who the enemy is.
Before We Were Yours
by Lisa Wingate
Based upon the infamous Tennessee Children's Home Society child trafficking racket, this is a heartrending tale of two girls, two generations, and the power of family love. A story about children taken from their parents through kidnapping or subterfuge and then placed for adoption, for a price.