Print this Page
Get A Library Card
Call for a Card
During the COVID-19 pandemic while the library buildings are closed you can call us for a free temporary card. Call 276-676-6233.
Library cards are free for Washington County residents of any age, whether you are a permanent or temporary resident.
If you are not a Washington County resident, your card is still free if you live in:
Bristol, Virginia/Tennessee
Smyth, Grayson, Russell, Scott, Tazewell or Wythe counties in Virginia
Johnson County, Tennessee
If you live outside those areas, you can get a library card for $10 per year.
Get an E-Card
Apply online for instant access to Overdrive/Libby. Your e-card expires in two weeks. Before it expires, call the library to apply for a library card.
E-cards may not be used to borrow physical items via curbside pickup.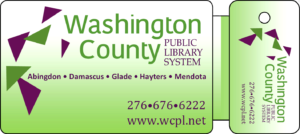 Why do I need a library card?
You'll need your card to
Check out materials
Use library computers
Access databases from outside the library
Renew materials
Reserve materials (place holds)
Download e-books and audiobooks
If you share your library card with someone, you are responsible for lost or damaged items checked out on your card.
Where can I use my library card?
Your library card is good at
Call the circulation desk at 276-676-6233 if you have questions about library cards.