Print this Page
Get A Library Card
Call for a Card
During the COVID-19 pandemic while the library buildings are closed you can call us for a free temporary card. Call 276-676-6233.
Library cards are free for Washington County residents of any age, whether you are a permanent or temporary resident.
If you are not a Washington County resident, your card is still free if you live in:
Bristol, Virginia/Tennessee
Smyth, Grayson, Russell, Scott, Tazewell or Wythe counties in Virginia
Johnson County, Tennessee
If you live outside those areas, you can get a library card for $10 per year.
How To Get a Library Card:
Come to one of our libraries
Fill out a registration form
Sign a responsibility statement
Provide ID for address verification
For your ID, we prefer a Virginia State Driver's License. We'll accept a current utility bill, tax payment receipt, or other official document showing proof of residency.
If you are younger than 18, you'll need a parent or guardian to sign the application form. If you're married and younger than 18, a parent or guardian's signature is not required.
Library cards expire and must be renewed every two years. You don't have to reapply, just update the information we have on file.
Your library card is free. If you lose it, a replacement card is $2.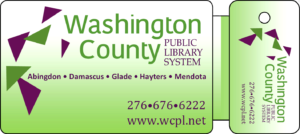 Why do I need a library card?
You'll need your card to
Check out materials
Use library computers
Access databases from outside the library
Renew materials
Reserve materials (place holds)
Download e-books and audiobooks
If you share your library card with someone, you are responsible for lost or damaged items checked out on your card.
Where can I use my library card?
Your library card is good at
Call the circulation desk at 276-676-6233 if you have questions about library cards.