Programs

Story Time is a great way to develop literacy skills, and it's a lot of fun.  Check the story time page for the full schedule including story times at the branches.
Home-School Day: Home-School Day at the main library is temporarily suspended due to the renovations. Please attend one of the programs at the Hayters Gap or Glade Spring branches. 
Join us at the main library the first, second and third Wednesdays of the month from 2:30-3:30 p.m. The first Wednesday of the month features STEM programming. The second Wednesday features our popular Lego Play. The third Wednesday offers Arts and Crafts. The Hayters Gap branch library offers a STEM program Wednesdays at 1:30 p.m.
Lego Play Saturday at Main library will usually be the third Saturday of each month but may change in case of holidays. Check the calendar for specific dates.
Homework Help & Crafternoons: The Hayters Gap branch library offers help with homework Thursdays at 3:30 p.m. Students who don't have homework can enjoy crafts during that time period.
Book Clubs at Glade Spring library
The Glade Spring branch library offers a Teen Book Club, which meets every third Tuesday of the month at 4 p.m.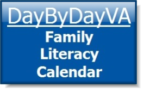 To grow little readers, check out the Day By Day Family Literacy Calendar, with songs, activities and videos for every day of the year.
Teen Volunteers
Volunteering looks great on college applications and resumes. Volunteering at the library also counts to fulfill requirements for the Washington County Scholars program. If you'd like to volunteer, you can:
For more details about becoming a teen volunteer, see our Volunteer page.