National Library Outreach Day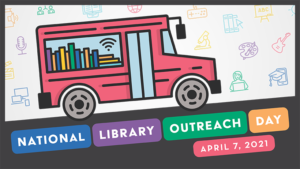 National Library Outreach Day (formally National Bookmobile Day) celebrates library outreach and the dedicated library professionals who are meeting their patrons where they are. Whether it's a bookmobile stop at the local elementary school, services provided to community homes, or library pop-ups at community gatherings, these services are essential to the community. Each year, National Library Outreach Day is celebrated on the Wednesday of National Library Week.
WCPL's Outreach Services take the library to the people! Materials are delivered monthly to adults in licensed residential and day treatment centers and children in licensed childcare and preschool facilities. Outreach Services also provides materials through Books by Mail to qualified individuals. Please contact Pattie Lamie at 276 676-6236 for more information about Outreach Services.