Take-and-Make Bee Garden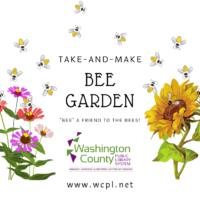 "Bee" a friend to the bees this April!
Pick up a take-and-make bee garden at any of our libraries.
Bee garden kits include flower seeds, soil, a biodegradable pot, and directions.
Have fun planting and growing your own flowers while doing something good for our Earth and our bee friends.
We have many books about bees, flowers, gardening, and Earth Day in the library, too!